Applications
Various industries use Technifabs products, from aerospace and healthcare to the food industry. Let us create a solution for you! We develop solutions for any industry because
We Know Cryo®.
Products
Technifab is built on quality. Our products are ASME-certified and perform better than all competitors regarding transfer efficiency. Don't settle for anything less than Technifab Products!
Services
We don't just manufacture products; we can handle the entire process or any part you'd like. Our experience and expertise are ideal for cryogenic system design, product manufacturing, service, and repair.
COMPLETE CRYOGENIC SOLUTIONS
Complete Cryogenic Solutions means we handle the entire process for you. With over 30 years of experience, we have created solutions for every type of business. Our cryogenic equipment is trusted and relied on daily within the Aerospace and Healthcare industry. Technifab's cryogenic equipment, such as our Phase Separators, Vaccum Jacketed Pipe, and Cryogenic Transfer Equipment, is used in millions of food and drink products annually. 
Technifab is the best way to ensure that your requirements are met from initial start-up through years of service. Our experience includes liquid oxygen, liquid hydrogen, liquid nitrogen, liquid carbon dioxide, liquid helium, and cryogenic fluids. Technifab's knowledge, experience, commitment to quality, and reputation are part of everything we deliver.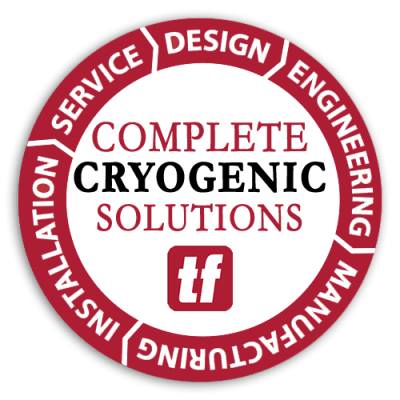 WE'VE GOT YOUR INDUSTRY COVERED





     HAVE A QUESTION? ASK OUR EXPERTS.
Technifab designs, manufactures, and installs cryogenic equipment including vacuum jacketed pipe, transfer hoses, dewars, and vacuum jacketed valves.
Our Techniguard rigid and bendable pipe are backed by our industry leading warranty
Technifab's liquid helium transfer hoses outperformed the competition in independent tests.
We manufacture ASME and liquid oxygen certified equipment.
We offer full installation services out of our 3 regional offices
Technifab's Phase Separators deliver high quality, low temperature, saturated, pure liquid nitrogen at consistent, adjustable pressures.